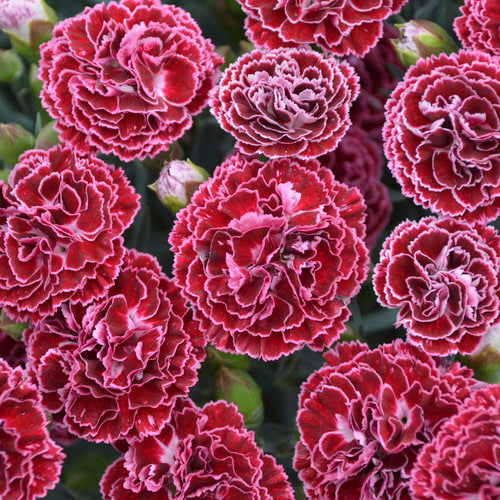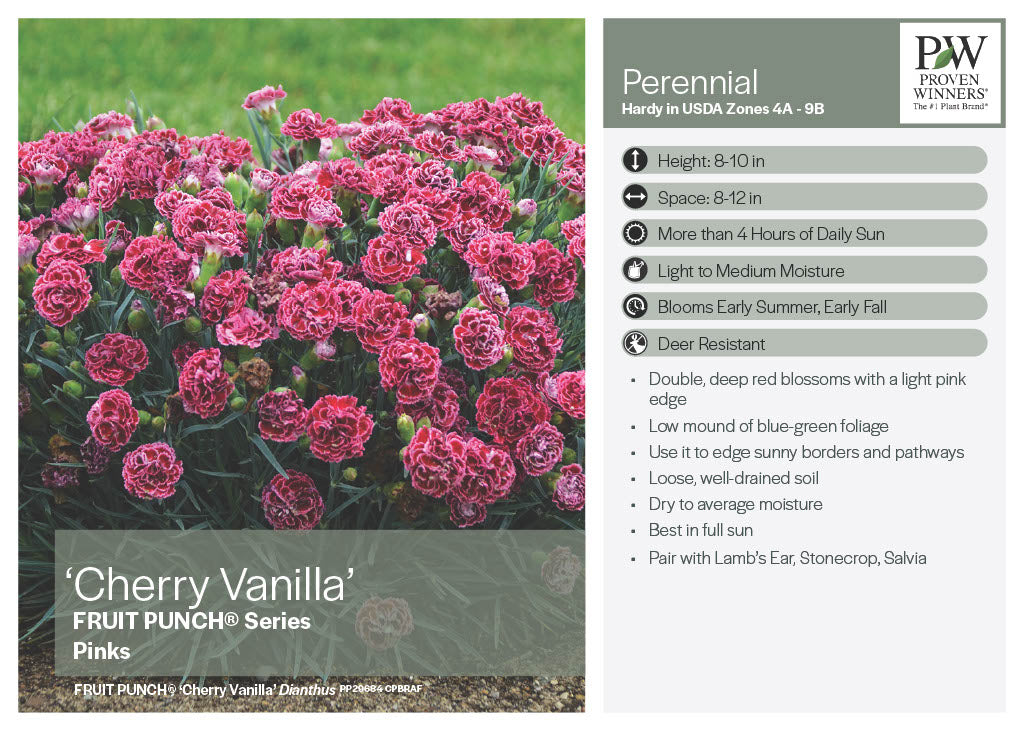 Cherry Vanilla Dianthus
Description

Care

Growth Habit

Toxicity

Satisfaction
There are only a few plants that can stop you in your tracks as you walk by, and this sparkling new Dianthus in the FRUIT PUNCH® series is one of them. 'Cherry Vanilla' has fully double, carnation-like flowers. 1½" wide, deep red flowers have a sharply contrasting, very light pink picotee edge that makes the color pop. The sweetly scented flowers appear proportionately above the narrow, blue-green foliage.
Members of the Dianthus FRUIT PUNCH® series share the following traits: semi to fully double, fragrant flowers, and good heat and humidity tolerance. Flowers appear in early summer, and a quick shearing after flowering will encourage them to rebloom in early fall. FRUIT PUNCH® Dianthus are just the right size to edge the front of the sunny border and use in combination containers.
Zones 4 - 9. 4+ hours of sun, but thrives in full sun. Can tolerate hotter and drier conditions once established. Prefers loose well drained soil. Water during prolonged dry spells. Blooms early Summer to late Fall.
8" - 10" tall and 8" - 12" wide. Low mounded growth habit.
Toxic to pets. Do not ingest.
While we work hard to maintain updated pictures of the plant items that we carry, please keep in mind, however, that these are images and that the plant product that you receive may not be exactly the same. If you are not happy with the product that you receive, please notify us immediately (within 24 hours) so that we can work with you to ensure satisfaction.