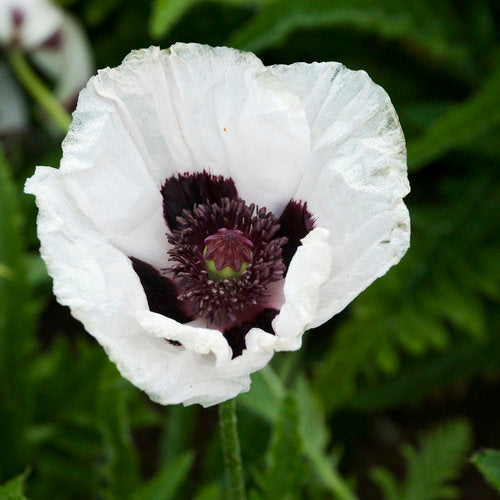 Royal Wedding Poppy
Description

Care

Growth Habits

Toxicity

Satisfaction
Papery, white, flouncy blooms are borne on wiry, pubescent stems from late spring thru early summer. The petals have a crepe-like appearance and a satiny texture. Each flower can measure 4-6" across. The center of a poppy's flower rests a very large, velvety-black seed capsule surrounded by prominent, dark purple stamens. Altogether, these flowers absolutely steal the show when they are in bloom. After the bloom cycle is completed however, these perennials will go dormant, so plan on planting other plants nearby to fill in the gaps.
Grows best in full sun; average soil and water needs.
Oriental poppies are considered as perennial plants in our zone (7) that grows both 18-24 tall and wide at maturity. Blooms in late spring to early summer.
Deer and rabbit resistant although it is also toxic to pets.
While we work hard to maintain updated pictures of the plant items that we carry, please keep in mind, however, that these are images and that the plant product that you receive may not be exactly the same. If you are not happy with the product that you receive, please notify us immediately (within 24 hours) so that we can work with you to ensure satisfaction.