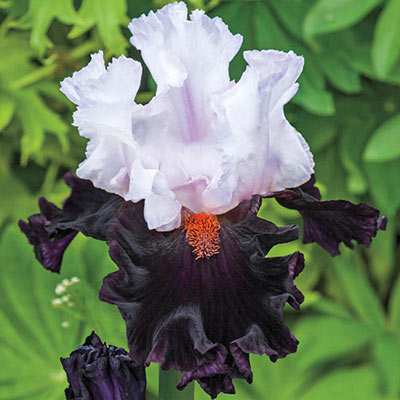 Starring Bearded Iris
In late spring, Starring Bearded Iris (Iris germanica) shows blooms of with velvety midnight falls with white standards. In the middle is smoky orange beards that make perfect landing pads for bumblebees. This multiple award-winner will steal the show in the late-spring garden. At maturity, this German iris grows 33" tall and 12" wide. Like other bearded irises, Starring is a low-maintenance perennial that multiplies annually.

While we work hard to maintain updated pictures of the plant items that we carry, please keep in mind, however, that these are images and that the plant product that you receive may not be exactly the same. If you are not happy with the product that you receive, please notify us immediately (within 24 hours) so that we can work with you to ensure satisfaction.