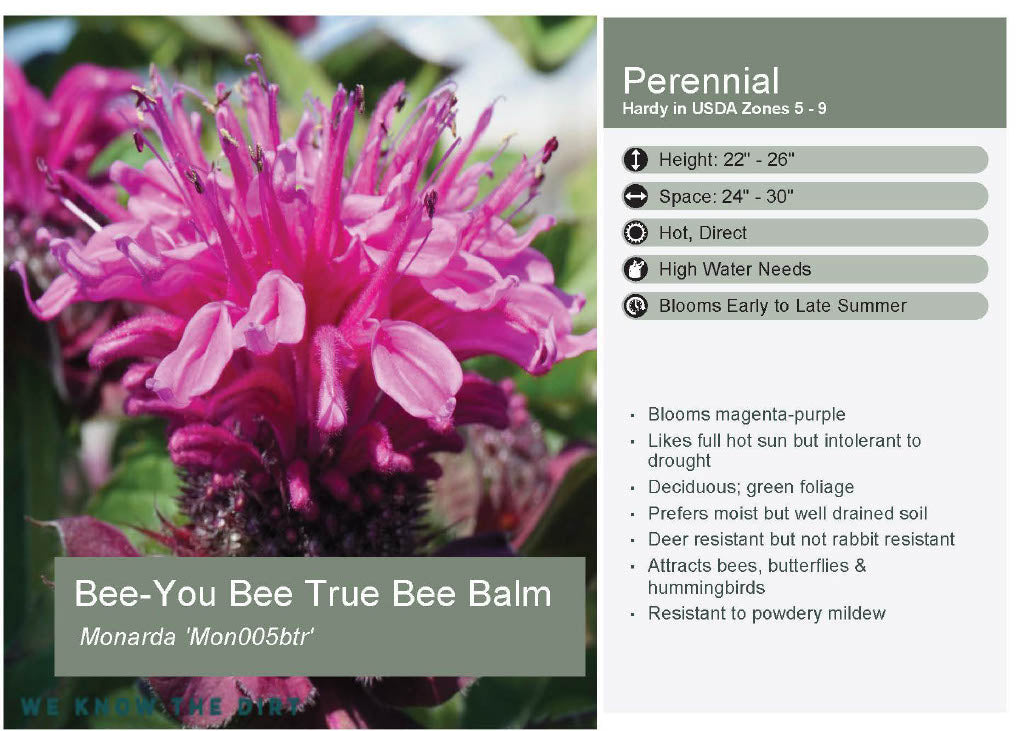 "Bee You" Bee-True Bee Balm
Description

Care

Growth Habit

Toxicity

Satisfaction
Deep maroon buds that cover the lush, minty-basil-scented, dark green foliage open to show-stopping, electric violet-purple blooms. This carefree, naturally rounded plant with a uniform habit is truly mildew free. Plant en masse for an inviting display of color in sunny borders and containers. An herbaceous perennial.
Plant in well-draining soil, partial shade to full sun (6+ hours of sun daily), and keep soil consistently moist. Apply slow-release fertilizer in spring, deadhead spent flowers, and trim back in late fall or early spring.
2 to 4 feet (60 to 120 cm) tall, spreading habit, suitable for USDA Zones 4 to 9. Tender perennial.
Not toxic to humans but may cause mild stomach upset in large quantities. Keep away from pets and children. Seek professional advice if accidentally ingested.
While we work hard to maintain updated pictures of the plant items that we carry, please keep in mind, however, that these are images and that the plant product that you receive may not be exactly the same. If you are not happy with the product that you receive, please notify us immediately (within 24 hours) so that we can work with you to ensure satisfaction.