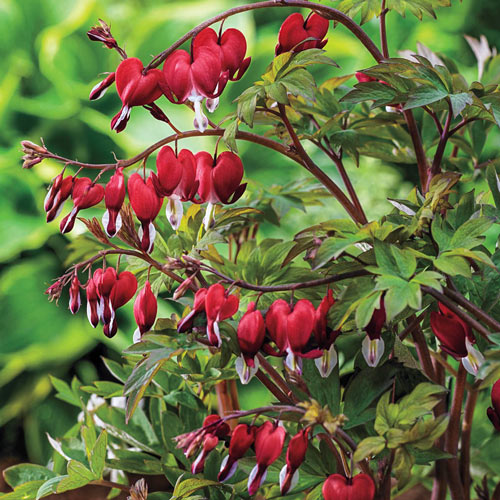 Valentine Bleeding Heart
Description

Growth Habit

Toxicity
Valentine' Bleeding Heart is a compact variety with dark green leaves and fragrant, deep red flowers that hang from true red stems. A newer introduction, 'Valentine' still sports the delicate heart-shaped flowers that Bleeding Hearts are known for and will feel at home in any shade garden.

Care
Zones 3 - 9. Full to part shade. In cooler climates, can tolerate more sunbut here in Tennessee it will tolerate some morning/evening sun or dappled afternoon sun, but more will scorch this plants delicate fern-like leaves. Blooms late spring for several weeks. After blooming has ended foliage will decline or die back entirely - this is normal. You can cut back the foliage  to help maintain a tidy appearance.
2' - 3' tall and 1' - 3' wide. 
Toxic. Sap is a skin irritant. Do not ingest.