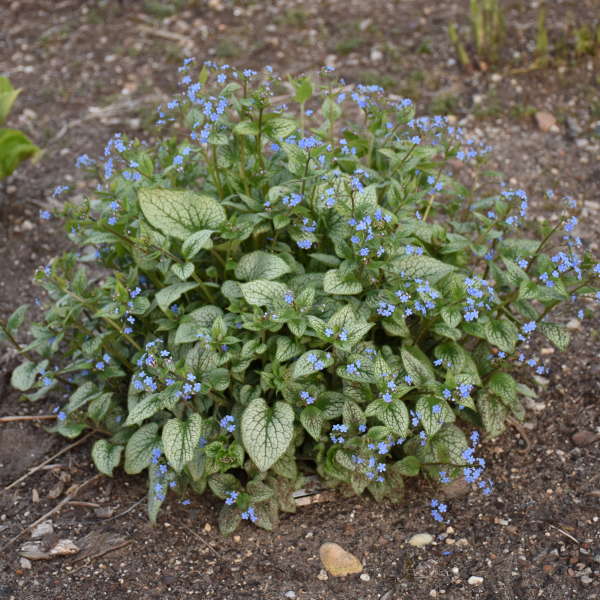 Queen of Hearts Brunnera
Description

Care

Growth Habit

Toxicity

Satisfaction
Beginning in early spring, sprays of dainty flowers unfurl above the brunnera plants for a month or more. The mostly azure blooms are an essential sign of spring for me, possessing just the right amount of whimsy to shake off the late-winter blues. Brunnera's bold, heart-shaped leaves, reaching up to 6 inches across, are somewhat reminiscent of hosta plant foliage except that brunnera leaves have a rough, hairy texture. The leaves are often erroneously described as furry. Queen of Hearts is no exception! Compared to its companion plant 'Jack of Diamonds', 'Queen of Hearts' has more heart-shaped leaves and more pronounced silver overlay with narrower bands of dark green veining. From mid to late spring, baby blue, forget-me-not type blossoms are held in clusters above the foliage. Brunnera is not native to this area.

Brunneras are hardy perennials in our zone (7) that thrive easily if you provide them with the right conditions. While brunnera can thrive in full sunlight, part shade, or full shade, planting them so they can avoid the hot afternoon sun is key to their good health. The leaves on brunnera's can be sensitive to full sunlight and can scorch or burn. Use soil with a pH level of 5.5–7.0 and water the plants regularly. It's important that the area drains well so that the soil isn't too soggy. 

Queen of Hearts reaches 16-18" tall and 28-36" wide at maturity and blooms in early to mid spring with blue flowers. Heart-shaped leaves have a silver overlay and a narrow band of dark green veining. Baby blue, forget-me-not type blossoms.
Brunnera is deer resistant the consumption of any plant material may cause vomiting and gastrointestinal upset for dogs and cats.
While we work hard to maintain updated pictures of the plant items that we carry, please keep in mind, however, that these are images and that the plant product that you receive may not be exactly the same. If you are not happy with the product that you receive, please notify us immediately (within 24 hours) so that we can work with you to ensure satisfaction.