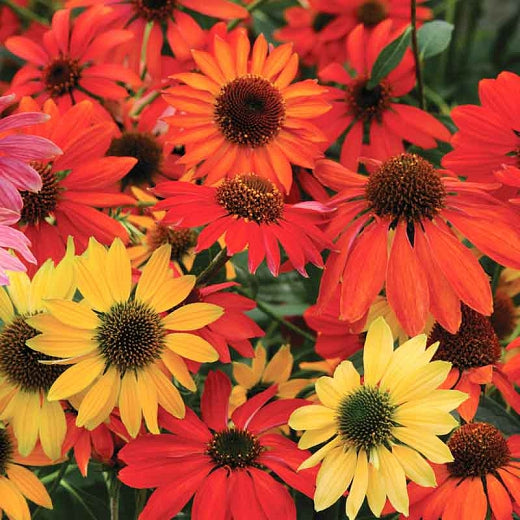 Cheyenne Spirit Echinacea (Cone Flower)
Description

Care

Growth Habit

Toxicity

Satisfaction
Echinacea 'Cheyenne Spirit' (Cheyenne Spirit Coneflower) provide a mix of flower colors including gold, scarlet, orange, rose-red, cream, purple and yellow. Buy three or more plants to get a colorful blend for your garden.
Zones 5 - 9. Prefers full sun and well drained moist-to-dry soil. Water well when establishing transplants. Tolerant of heat, drought, humidity. Reliable blooms all summer that pollinators and birds love. 
2' - 3' tall. 1' - 2' wide.
While we work hard to maintain updated pictures of the plant items that we carry, please keep in mind, however, that these are images and that the plant product that you receive may not be exactly the same. If you are not happy with the product that you receive, please notify us immediately (within 24 hours) so that we can work with you to ensure satisfaction.