Staghorn Fern
Staghorn ferns are a group of about 18 species of epiphytic ferns in the genus Platycerium of the polypod family (Polypodiaceae) native primarily to Africa, Australia and Southeast Asia, whose fronds supposedly resemble the forked antlers of male deer or elk.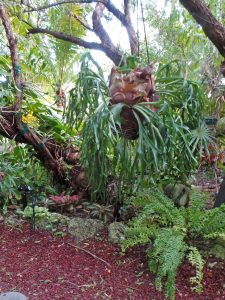 The names "staghorn fern" and "elkhorn fern" are often used interchangeably, although those with thinner fronds are often called elkhorn ferns.
asdfasdfStaghorn ferns look very much like deer or elk antlers, hence their unusual name. Native to Asia and Australia, the plants are part of the Polypodiaceae family—they grow slowly, but end up being quite large and impressive once mature. There are 17 species of Platycerium, but only one, the staghorn fern, is truly common in home cultivation.
Staghorn ferns are considered somewhat difficult to grow, but their uniqueness and wider availability makes them increasingly popular among growers looking for something unusual. These ferns are epiphytic, which means they grow mounted on plaques or other substrates. They have two distinct leaf forms—small, flat leaves (known as shield fronds) that cover the root ball structure and take up water and nutrients; and green, pronged antler fronds that emerge from this base and can reach up to 3 feet in length indoors (and larger in the wild).
ferns (Platycerium spp.) have an out-of-this-world appearance. The plants have two types of leaves, one of which resembles the horns of a large herbivore. The plants grow outdoors in warm-season locations and indoors elsewhere. Mounted or in a basket is how to grow a staghorn fern, because they are epiphytic, growing in trees generally. Staghorn fern care relies on careful light, temperature, and moisture monitoring
Read more at Gardening Know How: Staghorn Fern Information And Care: How To Grow A Staghorn Fern
https://www.gardeningknowhow.com/ornamental/foliage/staghorn-fern/staghorn-fern-information.htm
Staghorn ferns (Platycerium spp.) have an out-of-this-world appearance. The plants have two types of leaves, one of which resembles the horns of a large herbivore. The plants grow outdoors in warm-season locations and indoors elsewhere. Mounted or in a basket is how to grow a staghorn fern, because they are epiphytic, growing in trees generally. Staghorn fern care relies on careful light, temperature, and moisture monitorin
Read more at Gardening Know How: Staghorn Fern Information And Care: How To Grow A Staghorn Fern
https://www.gardeningknowhow.com/ornamental/foliage/staghorn-fern/staghorn-fern-information.htm