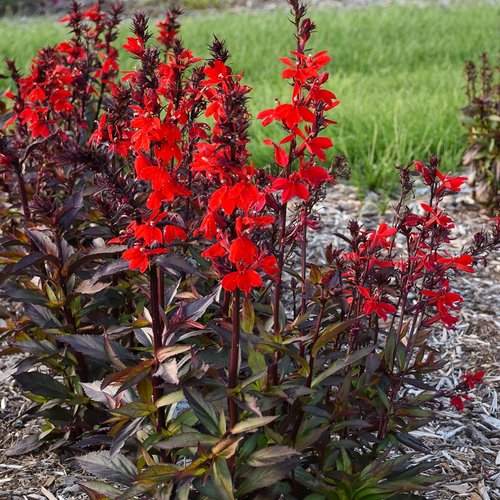 Starship Scarlet Bronze Leaf Lobelia
Description

Care

Growth Habit

Toxicity

Satisfaction
A replacement for 'Vulcan Red'. This perennial has similar excellent bronzing on the leaves to its predecessor, but adds better basal branching and is earlier to flower. Cardinal red flower spikes. Native to North America, this tall scarlet red blooming perennial will add pizazz to your landscape. The bronzing on the green leaves perfectly complements the cardinal-red color of the blossoms. Hummingbirds and butterflies will be attracted to your garden by the tubular flowers that appear in its first year. Lobelia speciosa has a long, summer bloom period.  It has no serious insect or disease problems; deer and rabbits avoid eating it.

Zones 6 - 10. Full sun - part sun. Prefers moist conditions (still needs well drained soil). Blooms midsummer to fall. 
It grows to a height of 22" - 28", thriving in wet locations. 16" - 22" wide.  Starship Scarlet Bronze Leaf™ has a growth habit that is upright, sturdy, and bushy.
While we work hard to maintain updated pictures of the plant items that we carry, please keep in mind, however, that these are images and that the plant product that you receive may not be exactly the same. If you are not happy with the product that you receive, please notify us immediately (within 24 hours) so that we can work with you to ensure satisfaction.