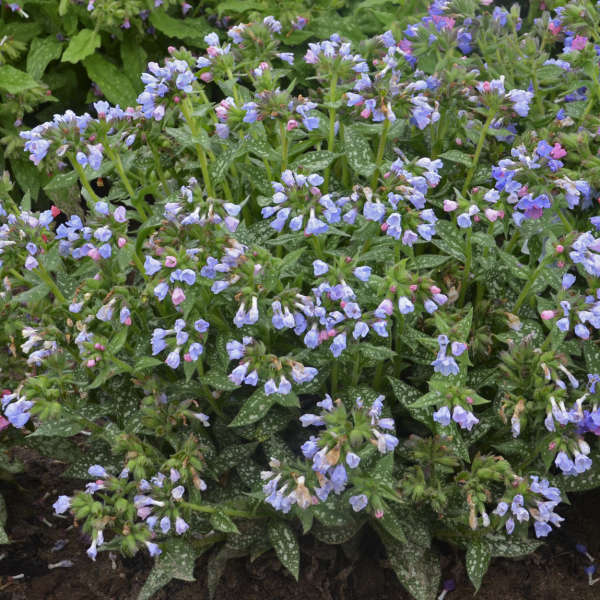 Twinkle Toes Pulmonaria (Lungwort)
Description

Care

Growth Habit

Toxicity

Satisfaction
This beautiful shade perennial will make you dance with its impressive spring flowers and unique foliage.   Pulmonaria is an underused perennial that grows well in shady gardens. It is especially attractive when planted among hostas, ferns, and brunneras. Its flowers are among the most brilliantly colored blossoms of all perennials. Attracts hummingbirds and this plant is not native to the United States. 

Zones 3 - 9. This plant will thrive in part shade to full shade as long as you provide moisture. Part sun, average water needs.
Starting in mid-spring shortly after Hellebores are finished booming, dainty light periwinkle blue flowers cover a low, mounded habit. After the flowers fade, you can enjoy its dark green leaves that are lightly sprinkled with silver. At maturity, this plant has a height of 12-14" and width of 16-18".
Deer and rabbit resistant. Lungwort plants are toxic to dogs of all ages. The entire plant contains poisonous chemicals, including saponins and pyrrolizidine alkaloids.
While we work hard to maintain updated pictures of the plant items that we carry, please keep in mind, however, that these are images and that the plant product that you receive may not be exactly the same. If you are not happy with the product that you receive, please notify us immediately (within 24 hours) so that we can work with you to ensure satisfaction.