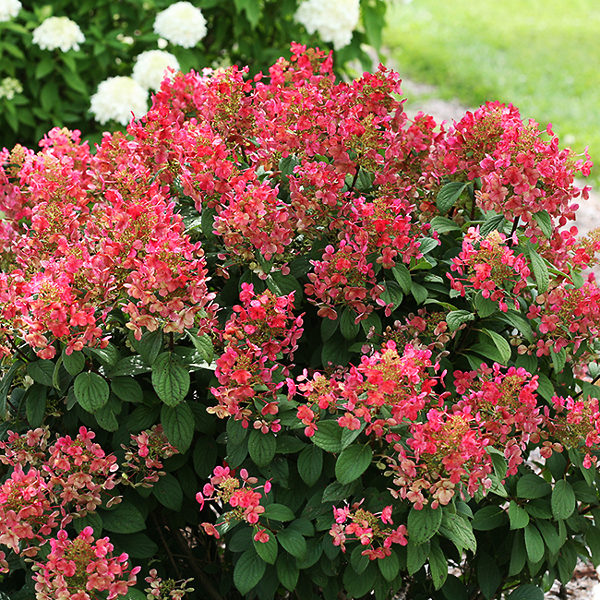 Little Quick Fire Hydrangea
Description

Growth Habit

Care

Toxicity

Satisfaction
Dwarf form of the popular Quick Fire® hydrangea. Like Quick Fire, it is early blooming, flowering about a month before other hydrangeas. White flowers transform to pink-red as summer progresses. This dwarf plant fits easily into any landscape, including container gardens. Add it to your existing hydrangea garden to extend the blooming season.
*This product is available for in store shopping only; no shipping*
A full sun hydrangea reaching 36 - 60" both tall and wide. Blooms on new wood. Flowers pink, red and white in early summer.  This plant was bred to have really strong stems, perfect to hold up the enormous flowers this shrub produces.
Panicle hydrangeas are best pruned in early spring. Cut the branches back by about one-third their total length. This plant tolerates a wide range of conditions, but does not grow well in soggy soil. Plant in full sun in zones 3-7; afternoon shade is preferable in warmer areas.

Chewing hydrangeas causes cyanide to be released. The leaves, buds, flowers, and bark all contain the toxin, so if your dog munches any part of your hydrangeas, he could get sick. Unfortunately, deer love to graze on the leaves, flowers, and tender tips of hydrangeas.

While we work hard to maintain updated pictures of the plant items that we carry, please keep in mind, however, that these are images and that the plant product that you receive may not be exactly the same. If you are not happy with the product that you receive, please notify us immediately (within 24 hours) so that we can work with you to ensure satisfaction.